Hits: 259
Have you ever wondered why radio waves seem to get weaker the further you get from the source of the waves? Well, they don't! They only appear to be weaker because they are spread over a larger area. This can be demonstrated by the inverse square law.
The inverse square law is a fundamental principle in physics that describes the relationship between the intensity of a phenomenon and the distance from its source. According to this law, the intensity of a phenomenon decreases in proportion to the square of the distance from its source. In other words, if you double the distance from the source, the intensity of the phenomenon decreases to one-fourth of its original value (i.e., 1/22); if you triple the distance, the intensity decreases to one-ninth of its original value (i.e., 1/32), and so on.
Read more: Why Do Radio Waves Get Weaker As They Travel Over Distance?
Hits: 525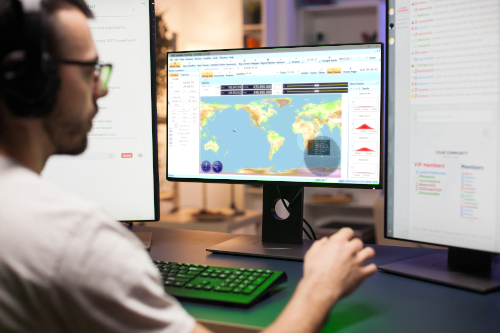 Using a contact logging software is important for amateur radio operators as it allows them to keep a record of their contacts with other radio operators. This record can be useful for a variety of reasons, such as:
Confirming QSOs (contacts): Logging software allows you to confirm that you have made a contact with a particular station, which is important for contests and awards.

QSL Cards: Logging software helps to manage QSL cards that
Hits: 590
Ham radio hotspots are becoming increasingly popular among amateur radio operators. These devices allow users to connect to the internet and communicate with other ham radio enthusiasts from all over the world. Ham radio hotspots are particularly useful for operators who want to communicate with others who are not within the range of their local repeaters.
One popular ham radio hotspot device is the OpenSpot 4. This device is designed to work with a range of digital modes, including DMR, D-STAR, C4FM, P25, NXDN, and POCSAG. It is easy to use and highly portable, making it ideal for use both at home and on the go. With the OpenSpot 4, users can create their own talk groups, reflectors, and digital modes.